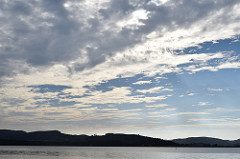 Tableau Basics using Tableau Public
Tableau is third-party data visualization software that lets you easily connect to data and use it to create interactive, sharable dashboards. UNH has two types of clients who use Tableau: those who develop data visualizations and those who interact with data visualizations that developers create.
In this session we will cover the basics of Tableau using the free Tableau Public Server and Tableau Public Desktop tools.
Attendees: Before the session, please:
1) Register for a Tableau public account by going to: https://public.tableau.com/auth/signup.
2) Install Tableau Desktop Public software on a laptop you can bring to the session. If you do not have a laptop you can use, please email jennifer.scully@unh.edu at least 2 days before the session.
It is downloaded for free at: https://public.tableau.com/s/download. It can be used on MAC OS and Windows computers. That webpage also lists system requirements for using Tableau Desktop Public.
Email jennifer.scully@unh.edu with any questions.
---
No upcoming sessions scheduled.
---
View all
courses and events