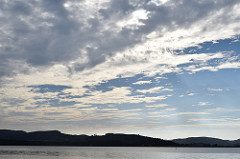 Higher Education Digital Transformation – The Changing Technology Footprint of Higher Education
Presented by: Breck DeWitt – Education Chief Technology Officer – Dell EMC Public Sector Division

Session: Our society's rapid digital transformation brings with it global connectedness, an expectation of anytime, anywhere access to resources and information, while exponentially growing knowledge-creation, an explosion of content and data needs to be gathered, curated, shared, consumed, and analyzed while protecting & securing it in the openness that is higher education. How do we as information technology practitioners keep pace with, and plan for, IT infrastructures that can address this digital transformation and fulfill the missions, needs and requirements of the institution, while crafting a valued and competitive digital environment for the faculty, administration, and students of the university.

This session provides perspectives and outlooks on the IT trends and technologies being adopted in higher education environments from one of the largest providers of IT to higher education, the newly merged Dell EMC. We will take a look at some of the mega trends happening in IT and higher education, see what major changes are happening in higher education data centers from convergence and consolidation to software defined architectures, more use of cloud resources and better leveraging our data through data lakes and big data analytics. We'll explore the ability for mobile solutions to deliver anytime, anywhere education while looking at the impact and expectations those same mobile users puts on IT and the security and data protection necessary for the institution. The growth, variety and velocity of data now requires new approaches to data management and high performance and versatile compute & storage infrastructures that can scale easily, be managed simply, while being deployed in the realities of limited and mixed budgets by often stretched IT organizations. We'll also talk about the IT training resources and tools available (many open source) that can allow you to evolve your infrastructure and skills to bridge past systems into a digital future. That digital future is here! Are you and your IT infrastructure future ready?
---
No upcoming sessions scheduled.
---
View all
courses and events